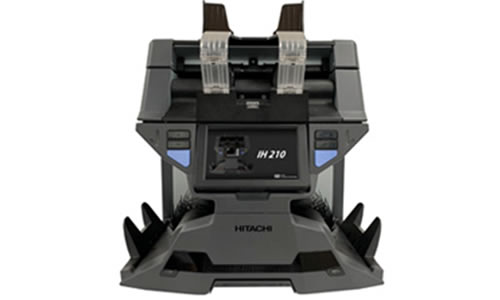 FEATURES AND SPECS OF iH210 BANKNOTE SORTER (2+1)
iH – 210 is advanced banknote processing machine with maximized efficiency technology with 3 pockets banknote sorter
GENAU MACHINES ARE SAILING PRODUCTS WHICH HAVE COME TO CHANGE DIRECTIONS OF BANKING OPERATIONS. THE CASHIERS HAVE EASY TURN AROUND TIME WITH EXCELLENT SATISFACTION. INVARIABLY, YOU WILL FOR SURE HAVE VALUE FOR MONEY.
VERY EFFICIENT, STABLE, ROBUST, DURABLE, EASY TO OPERATE, EASILY UPGRADABLE AND ADAPTABLE, SMALL IN SIZE THAN ALL SORTERS BUT POWERFUL AND FASTER THAN ALL SORTERS.
COMPACT SIZE WITH FULL FUNCTION 3 POCKETS
Smaller size than all 2 pockets machines
Saving workspace and minimize the cash processing movement
Selective pocket for fitness option: ATM, FIT, REJECT
ADVANCE TECHNOLOGIES
Full-color Dual CIS Sensor, Equipped with a range of counterfeit detection technologies
Capture and Record of OCR, MICR and Barcode
Can be installed more than 32 currencies
Multi-currency mode (Up to 16 currencies can be counted at once)
Reliable Fitness sorting / Excellent tape detection performance
USER-FRIENDLY SYSTEM
2-Teller mode / Multi-user mode
5" Full LCD Color Touch Screen (Angle adjustable)
REMOTE MONITORING & MANAGEMENT SYSTEM
Related Application: Smart Integration Manager (SIM)
TECHNICAL SPECIFICATIONS
CURRENCY - Up to 32 currencies including Mix & CNT (Mix & Multi up to 16 currencies)
OPERATING SPEED: Counting – Max 1,300 Notes/min; Value /Fitness Counting – 1,200 Notes/min
Serial Number Recognition & Printing – Max. 1,000 Notes/min
POCKET CAPACITY: Hopper – Max. 1,000 Notes; Stacker x 2 – Max. 300 Notes (Mint condition); Reject Pocket x 1 – Max. 200 Notes (Mint condition)
DISPLAY: 480 X 272 TFT LCD (5 inch), Touch Screen
DIMENSION: 382 (W) x 417 (D) x 340 (H) mm
WEIGHT: Approx. 21Kg
USER INTERFACE: LAN, USB(Serial) x 2, USB (host), RS232C X 3
POWER SUPPLY: 100-240V ~ 50/60Hz
SENSOR INFORMATION: Full Color Dual CIS; Reflection (R, G, B, IR, UV) x 2, Transmission (IR); Magnetic Sensor (Full line); Thickness Detection Sensor (12 Channel).
OPTIONS: External LCD Display, Thermal Printer