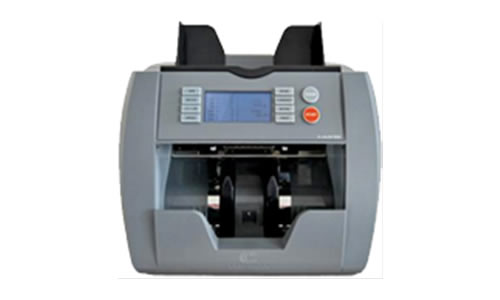 SPECIFICATIONS AND FEATURES OF THE COUNTING MACHINE
Counts and detects counterfeit for Both Old and New Ghana Cedi
High Counterfeit detection capability: Uses ultra-violet (UV), Infrared (IR), Magnetic (MG) and Security Thread Code (STC) counterfeit detection, EuroMag, 3D
Counts in 2 modes. Pieces and Value balancing modes
               i.e. Pieces mode gives only pieces eg. 50pieces, 75pieces 100 pieces etc.
Value balancing mode gives the pieces and its value.
Discriminates between denominations. (Able to detect mixtures)
Able to count and detect counterfeit for weak notes.
PC – connection via RS232
Cash Management Software via RS232
Upgradable and hence effective against technological obsolescence
Counting speed:800 – 1800 bills/min
Pocket capacity:  up to 100 notes – auto regulate note counts
Can be calibrated to count & detect Chinese RMB and South-African ZAR, CFA "based upon request".
Country of Origin: Germany