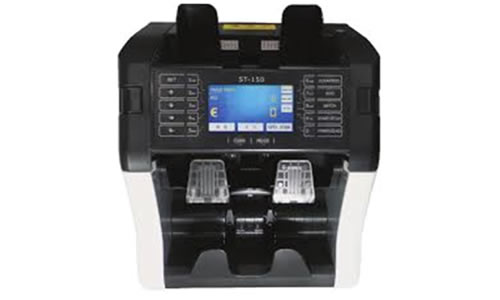 FEATURES AND SPEC OF ST 150 COUNTING MACHINE/AUTHENTICATOR
New Paradigm of Counterfeit Detection
Enhanced Speedy Counter
Serial Number Recognition by using OCR (up to 1,200notes/min)
Prints Serial numbers, date, and time of transaction
Print Bank Name and Branch Name on the receipt.
Print machine serial number on receipt.
Detects Duplicated serial number or Counterfeit serial number as a counterfeit note.
Highly Convenient and Easy Operation
Highly visible 4.3-inch color graphic LCD
Convenient  audio alert for notification or error
Easy upgradable by LAN or USB
Flexibly designed menu and GUI
Product Specification
Counterfeit detection; CIS, IR, MG & UV
Currency; GHS, SLL, GNF, USD, EURO, GBP + ANY ADDITIONAL CURRENCY BANKNOTE
Speed; Counts - 1,200 notes/min, Serial – 1000 notes/min, Mix mode – 1200 notes/min
User interface; Colors TFT-LCD (4.3inch), Audio.
Pocket Capacity; Hopper – 500 notes, reject pocket – 100 notes, stacker – 250 notes
Communication Channel; LAN, USB, RS232C (External display, Thermal printer), PC storage.
Dimensions ; 300(W) x 321(D) x 310 (H)mm
Weight; Net: 13.9Kg, Gross: 15.7Kg
Upgrade
Simple upgrade via USB, or LAN.
Able to upgrade and configure to accept and detect counterfeit for any new denomination introduced for all the currencies.
High – Level Multifunctional usage
Available up to 10 currencies
User friendly
Complete authentication
Easy opening to remove stuck notes
Accurate serial number recognition