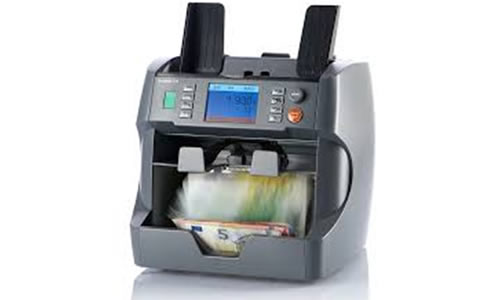 PRONOTE 1.5 (NOTE AUTHENTICATING MACHINE) FEATURES AND SPECS

GENAU MACHINES ARE SAILING PRODUCTS WHICH HAVE COME TO CHANGE DIRECTIONS OF BAKING OPERATIONS. THE CASHIERS HAVE EASY TURN AROUND TIME WITH EXCELLENT SATISFACTION. INVARIABLY, YOU WILL FOR SURE HAVE VALUE FOR MONEY
Image: Note recognition & color (single or dual sided) UV: Verification of luminescence IR: Verification of IR features MG: Verification of magnetic features MT: Security thread detection ST: Coded magnetic thread detection and CIS detection.
 Capacity & Speed Input tray: 500 notes Output stacker 200 notes Reject pocket max. 100 notes Counting speed up to 1,500 notes/min
2-Pocket used for counting and sorting
Counts and give total and partial values and detects counterfeit banknotes
Euro Mag, 3D Color, CIS Counterfeit detection
An attached Customer Display
Reject Capacity: 70 notes.
Reject pocket for non-stop counting
LCD Backlit Display to give all the needed information the user can use. Gives an on-screen report.
 Touch-screen for easy batch entrance
Counts Mixture of denomination
Can count the USD, EURO, POUND & CEDI (+ 20 ADDITIONAL CURRENCIES) 
Has an external printer that prints the serial number of each genuine note, date and time of transaction
Country of origin: Germany