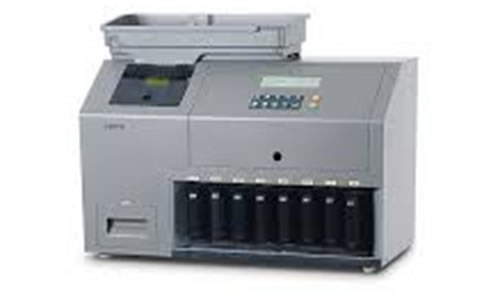 FEATURES AND SPEC OF CMX30 HEAVY DUTY COIN SORTER
CMX30 is an extremely reliable coin sorter. With its detection system it allows coin processing according to regulation EU1210/2010. The unit is convenient for operations with small and medium coin volumes, but also suitable for high volume sites.

STRONG AND DURABLE:
CMX30 is simple to operate and most functions are available with just one push of a button. The large hopper feeds up to 5,500 coins and once and processes them with a speed of up to 650 coins per minute.
Counting and sorting speed Up to 850 coins per minute with full detection
Hopper capacity of 5,000 coins (Standard Euro-Mix) and 5,500 coins max.
Semi-automatic feeding.
Big and robust rubber keys.
Low maintenance
SAFETY AND COMFORT:
The non-volatile memory secures your counting data also in case of power failure. An optional thermal printer provides receipts for your deposits and further information for accounting. The successful certification and the optionally available statistic box allow credit institutions to work and report according the regulations for cash professionals.
Contact-less cashMAX ® detection system with 4 detection parameters.
Non-volatile memory: count, total and bag contents individually for 8 cashiers.
Big coin size range: D: 14 - 34 mm T: 0.8 – 3.5 mm
2 bag stops levels, 1 - 9999 coins per bag.
Optional statistic box.
Complies with EU regulation 1210/2010
FACTS AND SPECS:
Product versions • CMX30 (22200) accessories Coin boxes, cleaning set, power cable, user manual, Options • Bag holder (222A0001)
Paper rolls for printer (22307)
External display L (22309+22310) • External display S (22318+22310)
Tubing set (EUR/21003) • RS232 cable (22308) • Statistic module (22310) •
Machine stand (22201) Interfaces 
RS232, printer, display Dimensions and weight • 600 mm (W), 300 mm (D), 430 mm (H), 525 mm (H with hopper)
34 KG
Technical Specifications
230 VAC (+5%/-15%), 50/60Hz, 35W
10° C to 35° C, 20% to 80% RH
Acoustic noise level LpA < 74 dB(A) (uncertainty: 2) LpA Standby < 43 dB(A)
CE, RoHS compliant