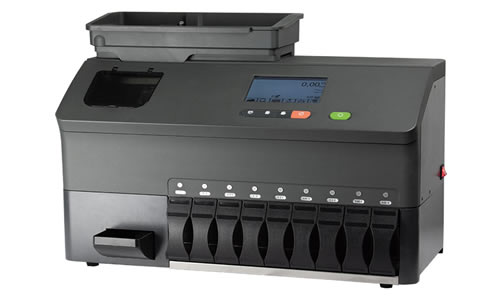 FEATURES AND SPEC OF EvoSort M9 HEAVY DUTY COIN SORTER

With outstanding detection, a processing speed of up to 1,000 coins per minute, and with functions that will surprise you in this category, EvoSort M9™ is the most advanced coin sorter in its class and the ideal choice for bank branches, retail and vending companies.
CONVENIENT TO USE
Hopper, buttons, touch-interface, screen printer and coin path are all well positioned and user friendly. No need for bending or standing. The large but
still very low hopper allows perfect visibility and facilitates the machine's feeding. Screen, buttons and functions can be adapted to your companies'
work-flow requirements.
5 physical and customizable quick access buttons
 TFT color touchscreen with multi-language user interface
 Removable reject pocket
LED buttons at each exit pocket
 Functions and screen customizable by site administrator
Integrated cash management software
DURABLE AND EFFICIENT
High Speed coin processing, flexibility and reliability makes your coin processing more efficient.
Up to 1,000 coins per minute with full detection
 Dual currency operation
Automatic feeding via wide and easy accessible hopper
8/1/1 pocket system
Durable materials
Dust removing system
Ideal for token processing
FACTS AND SPECS
Product versions
• EvoSort M9TM
Included accessories
• Reject cup
• Power cable
Options
• External display
• External printer
• Bagging units
• Stand
Interfaces
• USB, RS232, printer, display
Dimensions and weight
• Width: 750 mm
• Height: 400 mm
• Depth: 515 mm
• Weight: 35 KG
Technical Specifications
100-240V, 50-60Hz
• RS232, USB and LAN Interface
CE, RoHS compliant

COMPLIANCE
With reliable forged coin detection, EvoSort™ also provides excellent foreign coin rejection levels proven through vigorous testing.
cashDNATM Dual Sensor System
Only low voltage used within the unit
Compliant to OSH regulations
Compliant to EU1210/2010